Bangalore: Why do I Miss This City?
Overview
Let me tell you about my stay in Bangalore and why I miss this city. I got a chance to live in this city for about two years. Moving from the USA to this crowded city was not the best experience for us. But after living there for a short duration, I can say that this IT capital of India has a lot of things to impress you - be it job or travel opportunities, nightlife, food, lakes, or parks.
Table of Contents
Many people say that Bangalore is chaotic, crowded, and challenging - and they would not be wrong to some extent. Considering its pleasant weather and urbanization, who doesn't want to live in this city thus making it crowded resulting in pollution and traffic congestion. In my opinion, liking or disliking a particular city very much depends on a person's preferences and expectations. For me, the best part of this city is its location, climate, and access it gives to beautiful places that are perfect for weekend getaways or a relaxing holiday.
Again, if we talk about preferences, then for an IT professional there is no better place than Bangalore. Umpteen opportunities for career growth, plenty of pubs and restaurants to hang out, lovely gardens and lakes, and beautiful places to visit nearby - what else does one need from any city? Undoubtedly, Bangalore is a vibrant city and apart from traffic and crowd, you will definitely enjoy your stay there.
About Bangalore
Known as the Silicon Valley of India, this city is also famous for its parks and nightlife. Here are some fun facts about Bangalore:
Bangalore is the capital of the southern state of Karnataka, and the third most populous city in India.
This city is known as the birthplace of Rava idli. It is said that during World War II, there was a shortage of rice, and the Mavalli Tiffin Room chain of restaurants came up with the idea of using rava as a substitute for rice in idli.
Bangalore is also known as the city of lakes, the notable ones include Madiwala, Hebbal, and Ulsoor lakes. If you ever watched Malgudi Days, then it is said that Bangalore is the inspiration for R.K. Narayan's fictional town of Malgudi.
Bangalore was the first city to be electrified in India, way back in 1905. This task was completed with the help of a hydroelectric power plant at Shivanasamudra, on the banks of the river Kaveri.
Everyone knows that Bangalore is one of the most congested cities in the world but this city also has the highest concentration of Mosques, Churches, and Temples in India.
Bangalore has produced the maximum number of scientists who have been considered for the Nobel Prize. C V Raman was one such scientist who won the Nobel Prize for Physics in 1930 by introducing the world to the Raman Effect.
Being an IT hub of India, it's no surprise that this city has the largest number of engineering colleges.
This city is home to Bugle rock, a humongous rock with a garden and a watchtower built by Kempe Gowda, the founder of the city.
Top places to visit near Bangalore
Now, instead of telling you about the places to visit in Bangalore, let's rather talk about what places you can explore nearby. Here is my list of top places near Bangalore that everyone should explore:
Nandi Hill
Located at a distance of 60 km from Bangalore Nandi Hills, is popular to experience the beauty of the stunning Sunrise above the clouds in the early morning. The main attractions at this place are Tipu Sultan's Palace, Nehru House, and the Amrita Sarovar.
Coorg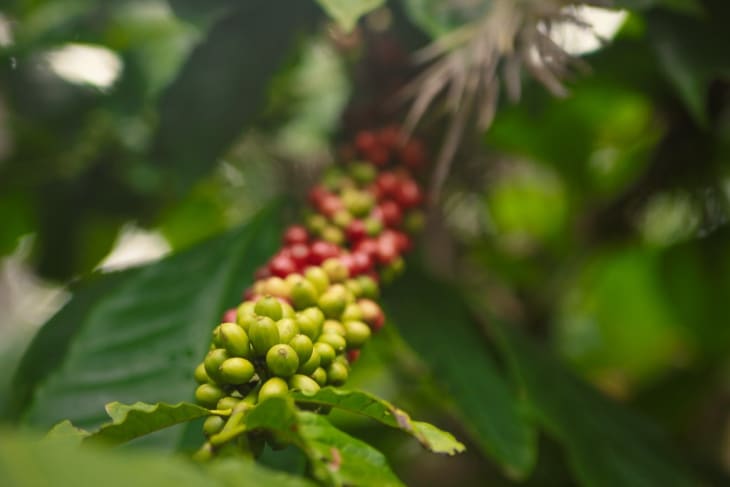 Coorg raja's seat view
Located amidst imposing mountains in Karnataka with a perpetually misty landscape, Coorg is a popular destination for a weekend getaway. It is 264 km from Bangalore and is also a perfect place for a pleasant road trip. 
Mysuru
Mysuru Palace
Bangalore to Mysuru is one of the most popular road trips in India. At a distance of just 140 km from Bangalore, Mysore or Mysuru has always enchanted travellers with its magnificent palaces, beautiful gardens, and rich cultural heritage.
Ramanagaram
Another popular place near Bangalore, famous for its silk and also attracts a number of thrilling rock climbers. Located at a distance of 50 km, people visit this place for the 'Sholay Hills', the tall granite hills on all sides. It is also a place for conserving the flora and fauna in the form of wildlife sanctuaries.
Chikmagalur
Picture perfect location in Chikmagalur
Nestled amidst the extensive Western Ghats, this hill station is particularly famous for its lush green mountains, picturesque trekking trails, and coffee plantations. Located at a distance of 245 km from Bangalore, it is a beautiful and serene hill station that gives its visitors a wonderful opportunity to escape into nature.
Lepakshi
Located at a distance of 123 km, this small village is a lesser-known tourist place near Bangalore. People visit this place to appreciate the architectural design. Also home to three prime shrines dedicated to Lord Shiva, Vishnu, and Virabhadra respectively, this place portrays a perfect blend of history and spirituality.
Wayanad
Banasura Sagar Dam
This is the only district of Kerala that borders both Tamil Nadu and Karnataka. The most attractive feature of Wayanad is the forests, which are as old as 3,000 years. Though a little far but a perfect place to visit via a road trip from Bangalore.
Kanakpura
This is an ideal place to escape from the hustle and bustle of busy Bangalore, just at a distance of 55 km. This place offers plenty of opportunities for everyone, ranging from trekking, exploring history, admiring wildlife, and so forth.
Mekedatu
River Cauvery gushing through the deep and narrow gorge in Mekadatu, Karnataka.
Located along the Cauvery river in Kanakapura district in Karnataka, Mekedatu is just 93 km from Bangalore and is a great place to visit. If you are looking for a one-day trip from Bangalore and want to spend some quality time with your family and friends, then Mekedatu is a great place to visit.
Savandurga Hills
Another easily accessible place from Bangalore, at a distance of 60 km Savandurga Hills is popular as one of the biggest single rock formations in entire Asia. A beautiful temple located at its foothills and the lake flowing along with makes this place even more attractive. This is a beautiful place where you can enjoy Trekking, rock climbing, and camping.
My Experiences
I visited Coorg and Mysuru first after moving to Bangalore. We enjoyed an awesome road trip and I can say that both places are a must-visit to experience the beauty of Karnataka state. The best part of our Coorg visit was the Amanvana Resort. This beautiful property has a lot to offer to its customers. This is a luxury resort and a bit expensive side but you won't regret spending time there. We rented a bungalow in this property and enjoyed every bit of this place including river adventure, bird watching, coffee plantations and not to mention the delicious food they serve in their restaurant.
golden temple

coffee plantation shed

nisargadhama

amanvana

dubare elephant camp 01
Coorg Visit
When we were planning to visit Chikmagalur many friends suggested there is nothing to do there. But to our surprise, this place was worth a visit. After visiting Chikmagalur, I can say that it is one of the best places in Karnataka for a tranquil retreat. This place has a lot to offer to its visitors – lush green mountains, picturesque trekking trails, cascading waterfalls, and mystical temples. If you are a real nature lover, then there is no better place than the verdant hills of Chikmagalur.
Hirekolale Lake, Chikmagalur

Hirekolale Lake, Chikmagalur

Chikmagluru with kids

Baba Budangiri, Chikmagalur
One of our friends visited Wayanad and he suggested that you could go to this place by car. We not only enjoyed an awesome road trip but had the best authentic Kerala food and enjoyed lovely sights in this lovely hill town of Kerala. Wayanad not only offers visual sights, but it also has some historical stories to tell. Pictorial carvings, on the walls of the Edakkal caves, are the archaeological evidence of its historical background since the Neolithic and Mesolithic ages. Ancient temples enclosed with mountains and forests surely add more charm to this region.
View from Thirunelli Temple

Soochipara Falls

Banasura Sagar Dam

Night view from Planet Green Resort

Banasura Sagar Dam

Thirunelli Temple

View from Planet Green Resort

Tea plantations of Wayanad
Mekedatu was an impromptu trip for us. At this point, the river Cauvery flows through a deep and narrow gorge. Mekedatu means 'goat's leap' in the Kannada language. It is believed that the name came from an incident a long time ago when herdsmen witnessed a goat being chased by a tiger. The goat made a desperate attempt to save its life by leaping from one side of the gorge and managed to cross over the raging river below. I read this story after our visit and was happy that we visited this place as it was not in our initial plan. We visited Chunchi fall and before heading towards this place. We thoroughly enjoyed this one-day road trip with some amazing friends.
Chunchi Fall
Conclusion
Born and bred in North India, I got to know the Southern part of India during my stay in Bangalore. I loved their culture, friendly nature, food, and hospitality. I always miss the friends that I made during my stay, the nightlife, pub hopping, and the lovely places that I visited. No matter which part of the world I live in, Bangalore will always hold a special place in my heart.
---
This blog post is part of the blog challenge 'Blogaberry Dazzle' hosted by Cindy D'Silva and Noor Anand Chawla in collaboration with Make a Wish Box.
See Also